VENEZUELAN PERCUSSION with LALI MEJIA

Cost is $25 – $10 (sliding scale);
Under 12 free
No one turned away for lack of funds.
1:00PM TO 3:00PM
1317 San Pablo Avenue, Berkeley, CA
Open to ALL LEVELS.
Participants should bring congas, sticks and maracas. Some instruments will be available for the class.
Traditional Instrumentation: Cumaco Drum, Palos (sticks), Maracas, Vocals.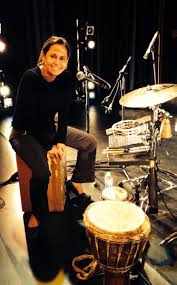 About Lali Mejia:
A native of Maracaibo, Venezuela, Lali Mejia started her musical training at an early age at the Colegio Bellas Artes in Maracaibo. Lali formally began her percussion studies under Jackeline Rago, Venezuelan instrumentalist and percussionist based in the Bay Area. She also furthered her studies traveling to Venezuela and taking specialized courses in Afro-Venezuelan percussion with master percussionist Alexander Livinalli and members from the Fundacion Biggott. Additionally, Lali studied the art of cajon flamenco in Barcelona, Spain, under Alberto Perez, flamenco singer and percussionist, with an interest in applying its technique to contemporary Latin American music.