Drum Sunday on March 1, 2016: Debbie Fier & Middle East Rhythms!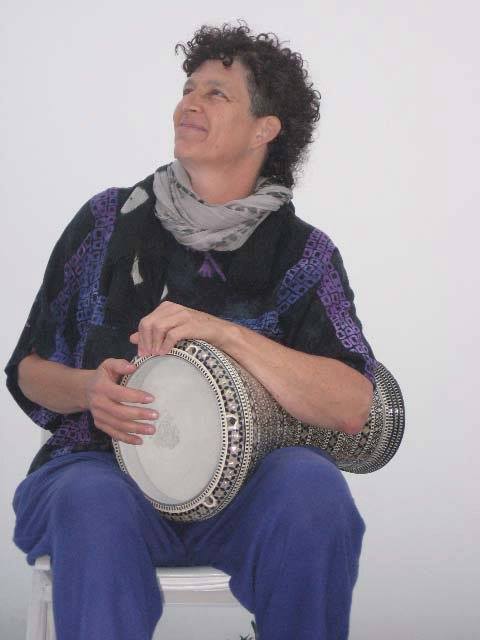 DRUM SUNDAYS are drumming workshops presented on the first Sunday of every month by one of our FANTASTIC Maestra drummers from Born To Drum.
Debbie Fier will be leading this Drum Sundays workshop with rhythms from the Middle East.
Come enjoy the wonderful connection that we will create in our circle of drummers. We will take time to warm up with stretching and body percussion, exploring rhythms as we tap, snap and clap our way into a playful rhythm zone. Then we will move into drum technique and learn some Middle Eastern rhythms.
Class is open to all levels. Bring your dumbeks, frame drums, riqqs (Egyptian tambourines), djembes, congas and hand percussion – all other hand drums welcome!
WHERE: ASHKENAZ Music & Dance Community Center ~ 1317 San Pablo Ave. Berkeley, Ca. 94702 ~ .
COST: $25 – $10 (sliding scale);
Under 12 years free; no one turned away for lack of funds.
TIME 1:00 – 3:00pm ~ In the Back Room
ALL LEVELS: Classes are open to all levels. There will be a limited number of drums to borrow on a first come first serve basis.
---
Debbie Fier
Debbie has over 35 years of experience as a performing vocalist, drummer, pianist, composer, percussionist, and teacher. She has studied numerous drum styles for over 30 years, including Afro-Cuban and West African rhythms, focusing deeply on the rhythms and instruments of the Middle East and N. Africa. She drums and performs regularly with the Sabah Belly Dance Ensemble and the band Safra, as well as with a variety of music groups, dancers and poets, in educational, musical, and spiritual settings. Debbie continuously uses music and drumming to build bridges between different cultural and spiritual communities. Her passion for rhythm and music is evident in the energy she brings to her craft creating an environment for safety, playfulness, and exploration for her students and the other musicians and dancers that she collaborates with. She teaches body percussion and drumming throughout the bay area, coaching people on how to tap into the power of drumming and rhythm as both a meditation and a healing tool, and performs regularly on dumbek, riqq, tar and djembe.
Over the past 10 years, she has found a home at Kehilla Community Synagogue as a spiritual leader through drumming, where she has been named the Heartbeat of the Service.  She teaches classes called Drumming as Prayer. Her original compositions are available on four recordings âIn Your Hands, Firelight, Coming Home, and her most recent, Arise, Kehilla Inspirational Music of Kehilla Community Synagogue. All are available on itunes! For more info, visit debbiefier.com
---
Drum Sundays is a community drumming event that happens the first Sunday of every month. It is very inexpensive, and no one is turned away for lack of funds. Get your drumming on with the Faculty members of Born To Drum. There is a different faculty member featured every month.Drum Sundays are held at Ashkenaz Music and Dance Community Center at 1317 San Pablo Avenue in Berkeley, Ca. SEE YOU THERE!!