Adwoa Kudoto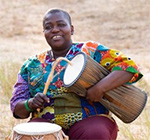 Adwoa Kudoto is from Cape Coast, Ghana (West Africa).When Adwoa grew up in Ghana, drumming was considered a taboo for women. Adwoa has been able to break down these barriers and misconceptions surrounding women and drumming arts. In 1999 She was recognized and awarded the title as the Only Versatile Female Master Drummer in Ghana. Adwoa is very passionate about drumming and teaching and has traveled to Sweden, Denmark, Germany and the U.S. sharing her culture. Adwoa embraces everyone on different levels of drum experience. She loves to teach and believes drumming is healing and also brings us all together in love. Adwoa has also dedicated her life to helping orphaned young boys and girls by teaching and performing with them at birthday parties, weddings, graduations and many other community events. Her celebrated group, Nyame Tsease African Traditionals, travels both locally and abroad to teach and perform.
---
Amikaeyla Gaston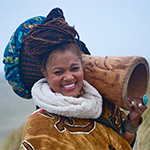 Amikaeyla is an amazing vocalist and percussionist who comes from the Washington DC area. She has studied, recorded with, and shared the stage with many award winning artists, including Take 6, Sweet Honey In The Rock, Baba Olatunji, Mickey Hart, Gil Scott Heron, Wyclef, Ubaka Hill, Ferron, Vicki Randle, Linda Tillery, Chris Williamson, and Pete Seeger.
Proclaimed as "one of the purest contemporary voices…" by National Public Radio, powerhouse Amikaeyla embraces the best of many types of music: from Bel Canto, Funk & Bossa Nova to Blues, Sacred Chanting and Soul, Afro-Cuban and Jazz.
Before moving to the SF Bay area in 2007 Amikaeyla recorded her debut album Mosaic (2004), which received national acclaim, and earned her eight Washington Area Music Association Awards, or Wammys, including Best Jazz Vocalist, Best Jazz Recording, Best Urban Contemporary Vocalist, Best World Music Vocalist, Best World Music Recording, and Best Debut Album. Amikaeyla was named DC's best female composer in 2006 & 2008, and was also honored with first prize for Best World Music Composition from the 2010-2011 Maryland State Arts Council.
---
Amina June Goodyear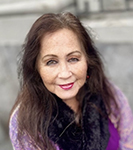 Amina Goodyear began her performance career in the mid-60's at the Baghdad Cabaret belly dancing nightly in San Francisco's North Beach district during that city's golden era of Middle Eastern dance and she opened her own school in the early 1970's. She hasn't stopped dancing, teaching and learning ever since. She founded her dance company, The Aswan Dancers, in 1975, and celebrates over 40 years of continuous performance and entertainment with them. Amina began her studies in Arabic percussion here and in Egypt in the early 1970's and continues to study while specializing in learning about, collecting and categorizing the various genres of Egyptian percussion and music.
Here in the San Francisco Bay Area Amina has founded many musical groups, both informal & professional performance groups. She founded the Cairo Cats, now a percussion ensemble led by her daughter Susu Pampanin. She also co-founded The Arabian Knights Band, Karnak, Layalli al Sharq, the Four T's and Caravan Band, and was a founding member of Aswat, AWE and Pasha Band. Today she plays with Dulabina playing fun danceable songs; Beit el Tarab dedicated to studying rare and classic Arabic music; Aswat Arab Music Ensemble's news (20 years); AWE, Aswat Women's Ensemble (11 years) and the Georges Lammam Ensemble (15 years).
Amina has also co-produced 2 albums with her daughter Susu, a dance DVD featuring the Aswan Dancers, was a featured dancer in a film "Classic Stars of BellyDance" and is now producing and co-writing music/lyrics with musicians and Mahraganat artists in Egypt.
---
Amy Vitro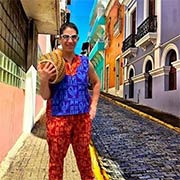 Amy Vitro is an accomplished multi-instrumentalist, versed in a broad array of musical traditions and styles. She has studied with numerous masters of the shekere, djembe, and conga and has participated in many women's drum camps and orchestras throughout North America. Amy is now deeply involved with the folkloric musical traditions of the Caribbean coast of Colombia and Puerto Rican Bomba, both rooted in West African and Indigenous traditions.
Amy is a member of several all-women percussion and performance groups in the Washington, DC metro area. She plays shekere for Bele Bele Rhythm Collective (West African), repique with Batalá Washington (Afro- Brazilian samba), and Alegre/flute/clarinet for La Marvela (Afro-Colombian folkloric). Amy also co-founded musical duo "Amor y Luz" with her partner Kutasha Silva, creating a unique blend of classical and Latin American music. Amy sings, plays flute, clarinet, guitar, ukulele, cajon, assorted hand percussion, and does song arrangements and collaboration on the duo's original music.
---
Ava Square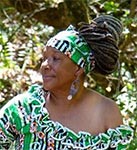 A performance artist (choreographer/musician/actor), writer/poet, documentary filmmaker, and teacher, Ava's creativity is fluid and fulfilling. A lover of multimedia, she often incorporates her poems and writing in her dance and music performances and has appeared in numerous short films and film productions. The writer, director, and editor of two films, AVOTCJA and SACRED SPACE, Avotcja's film SACRED SPACE, featuring Long Beach's Earthlodge Center for Transformation's founder & chief steward, Queen Hollins, was highlighted at QWOCFF 2012 and purchased by Cabrillo College for their library in 2013.
A recipient of two grants from the California Arts Council, Ava created Spirit Theatre of Dance Company as well as Spirit Theatre Dance Studio (STDS) offering a vast array of classes, programs, and events to the community. Her studio received the East Bay Express newspapers "Best in the Bay" award two years running and was featured in two seasonal television commercials for sponsors, Bay Area Black United Fund and KTVU. Ava currently works for the Health and Human Resource Education Center (HHREC). She is the mother of four and grandmother of 3+.
---
Carolyn Brandy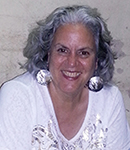 Carolyn Brandy has been drumming for over 45 years. She has been instrumental in bringing women to the spirit and healing of the Drum. Carolyn is the Artistic Director of Women Drummers International and co-creator of the Born to Drum Women's Drum Camp. She was also the founder of the Bay Area's favorite marching band, Sistah Boom in 1981. In 1976, Carolyn co-founded the popular band, Alive! that toured the nation for almost 10 years and has 4 recordings to its credit. She has worked in the SF Bay area for many years as a composer, performer, teacher and cultural worker.
Carolyn is an expert in the folkloric drumming styles found throughout the island of Cuba. She has been a practitioner of the Yoruba-based Cuban religion, Regla de Ocha, also known as Santeria, since 1976. She was initiated as a priest of the religion in Havana, Cuba by Amelia Pedroso in 2000.
Carolyn has led six successful cultural tours to the Island of Cuba to study Folkloric music. She organized workshops in Havana, Matanzas, Jovellanos, Cienfuegos, Camaguey, Santiago De Cuba, Guantanamo, and Baracoa, where the groups studied with masters of Afro-Cuban drumming and dance.
---
Debbie Fier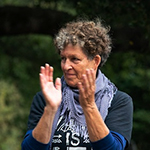 Debbie Fier has over 35 years of experience as a performing vocalist, drummer, pianist, composer, percussionist, and teacher. She has studied numerous drum styles for over 30 years, including Afro-Cuban and West African rhythms, focusing deeply on the rhythms and instruments of the Middle East and N. Africa. She drums and performs regularly with the Sabah Belly Dance Ensemble and the band Safra, as well as with a variety of music groups, dancers and poets, in educational, musical, and spiritual settings. Debbie continuously uses music and drumming to build bridges between different cultural and spiritual communities. Her passion for rhythm and music is evident in the energy she brings to her craft, creating an environment for safety, playfulness, and exploration for her students and the other musicians and dancers that she collaborates with. She teaches body percussion and drumming throughout the bay area, coaching people on how to tap into the power of drumming and rhythm as both a meditation and a healing tool, and performs regularly on dumbek, riqq, tar and djembe.
Over the past 10 years, she has found a home at Kehilla Community Synagogue as a spiritual leader through drumming, where she has been named the "Heartbeat of the Service". She teaches classes called "Drumming as Prayer". Her original compositions are available on five recordings: In Your Hands, Firelight, Coming Home, Arise, Kehilla, Inspirational Music of Kehilla Community Synagogue, and her most recent recording WATERWAYS, featuring soothing handpan with the beautiful artistry of Jami Sieber, co-producer and gorgeous cellist.
. All are available on itunes! For more info visit her website.
---
Denise Solis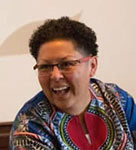 Denise Solis is an activist, labor organizer, and musician who has been living in the Bay Area since 2002. Denise began working in the Latino/a cultural arts community in 1999 at the Guadalupe Cultural Arts Center as a Program Coordinator in San Antonio, Texas where she is from. Upon re-locating to the Bay Area in 2002 she worked for Teatro Campesino and La Pena Cultural Arts Center before making a shift to labor and community organizing in 2003. Denise began studying the Afro Puerto Rican musical tradition of Bomba in late 2004 at the Bomba and Plena workshop at La Pena Cultural Center in Berkeley and with Román 'Ito' Carrillo, she has also learned from and sought after learning and experience through collaboration with Bomberos and Bomberas in Puerto Rico and the Diaspora. Denise has also more recently come under the mentorship and continues to learn from, Jesus Cepeda, El Tambor Mayor. Denise is one of a few female lead drummers (Primo/a) or Subidora) in Puerto Rico and the Diaspora within the Bomba genre.
Denise has taught workshops since 2010 at the Women Drummers International's yearly Born to Drum Camp in Northern California as well as their special Drum Sundays workshops on featured Sundays in the Bay Area. She is also teaching Bomba Percussion and Song classes and playing for the Bomba Dance classes (Basic, Intermediate, and Advanced levels) at Studio Grand with, Bomba dance teacher Julia Cepeda under their project, Taller Bombalele, on Sundays in Oakland and on Wednesday evenings at Galeria de la Raza in San Francisco and is the director of the class performance ensemble Grupo Taller Bombalele.
---
Elizabeth Sayre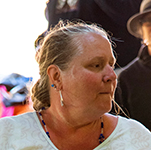 Elizabeth Sayre is a percussionist and musicologist who has performed, published articles about, and organized events around Afro-Latin, Brazilian, and African music since 1990. She is a freelance musician, teacher, researcher, writer, and translator/interpreter. She relocated to the Bay Area in July 2012 and has been playing and teaching batá and other percussion, and accompanying classes and performances with Arenas Dance Company.
In Afro-Cuban music, she has studied with John Amira, Orlando Fiol, Amelia Pedroso, Lazaro Pedroso, Michael Spiro, Michel Aldama, and Orlando Alvarez Gonzalez, in Philadelphia, New York, San Francisco, and in Havana and Matanzas, Cuba.
In Spring 2013, she co-organized Ojalá's trip to the Festival del Caribe in Santiago de Cuba. Ojalá is an 8-woman ensemble that fuse Afro-Cuban and Brazilian percussion with African American roots music.
---
Jeni Swerdlow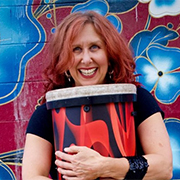 San Francisco Bay Area percussionist and registered art therapist Jeni Swerdlow, MA-ATR is a dynamic and engaging facilitator, trainer, presenter, and performer. Founding DRUMMM Rhythmic Events in 2000, her interactive, hands-on group drumming programs have engaged many thousands of participants at a wide variety of events in the U.S. and abroad. Swerdlow is a REMO endorsed drum circle facilitator, trained HealthRHYTHMS facilitator, and lifelong student of West African drumming and world percussion. Swerdlow is best known for her innovative strategies and playful attitude that foster teambuilding, support wellness, enhance celebrations, and strengthen community for event participants of all ages and backgrounds. More info on Bay Area Drum Circles and Drumming is located here.
---
Julia Cepeda
Julia Caridad Cepeda was born into the cradle of the famous Cepeda Family, a family of artisans, musicians, dancers, and composers. The Cepeda Family has devoted themselves to the preservation of Puerto Rican folklore for many years. Julia is part of the sixth generation of Bomba practitioners in her family. Her father, Jesus Cepeda, best known as El Tambor Mayor, is the director of the Rafael Cepeda Folkloric Cultural Foundation.
Julia Caridad made her debut performance in 1981 at the Center for Fine Arts in San Juan, Puerto Rico, in collaboration with the Ballet of San Juan in a piece directed by the distinguished Ana Garcia. In 1982, Julia was featured in the documentary El Patriarca (The Patriarch), which told the history and significance of Puerto Rican folkloric culture. In 1983, she traveled with her family to Washington DC where they were presented with the National Heritage Fellowship Award by the National Endowment for the Arts granted by the Smithsonian Institute.
Julia was also a part of a cultural exchange that included Cuba's Irakere, Rey Barreto, and the Cepeda Family on the island of Guadalupe. Since then, Julia has continued to nurture her position as a part of the Bomba tradition, along with her family, having taught dance classes, participating in collaborations, and presenting publicly with international artists including Paul Simon, Ricky Martin, Robby Dracco, Manny Manuel, among others.
In 1996, she was brought to New York to teach Bomba classes, demonstrating the various rhythms of Bomba. She also helped found the Proyecto Dos Alas (Two Wings Project). In 2000, along with her family, she toured 25 U.S states presenting Bomba and Plena throughout. Since then, Julia has been the principal instructor for the Rafael Cepeda Folkloric Cultural Foundation. Upon relocating from her home in Puerto Rico to the San Francisco Bay Area in late 2013, Julia wasinvited to teach Bomba Dance classes at Studio Grand Oakland and at Galeria de la Raza in San Francisco in 2014. She then co-founded Taller Bombalele with Bomba Dance and Music Classes in the SF Bay Area with her partner, Denise Solis.
---
Mabiba Baegne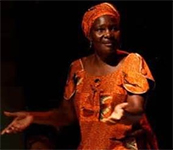 Mabiba Baegne is an internationally acclaimed teacher, drummer and choreographer of traditional and contemporary African Dance. Mabiba was born in Congo Brazzaville and initiated into dancing by her grandparents at the age of eight.
Mabiba is an inspiring drummer. In addition to her Congolese dancing, Mabiba has studied West African dunun drumming with master drummer Famoudou Konate in Guinea and she was the first woman to teach this form in the United States.
Mabiba is also an acclaimed singer and has toured and recorded with Salif Keita, master drummer Mamady Keita, and Samba Ngo.
---
Mar Stevens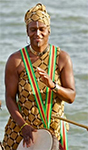 Mar Stevens, drum warrior, connected with her inner rhythms as a child drumming on her grade school desk. She began her drum journey twelve years ago with Master Drummer, Afia Walking Tree, of Spirit Drumz. The Drum transformed her life and continues to inspire and heal her.
She continued her study of West African rhythms by attending the Fore-Fote drum camp in Guinea, West Africa. She studied with Master Drummers and dancers on the Island of Roume, learning songs, dances, and rhythms.
Mar teaches and loves sharing the rhythms of West Africa with community. She performs in the ensemble, Sistahs of the Drum, a Bay Area group of Women of African descent (www.sistahsofthedrums.org). The group's mission is to heal, transform, and witness through the power of the drum.
---
Marian Knox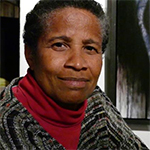 Marian Knox, created the new story sharing game Griot. She grew up fascinated by stories told by and about her poetic mother, who was born in 1922, her heartbroken Paternal Grandmother who was born in 1906, and her once enslaved Maternal Great- Grandfather who was born in 1859. She learned the power of story to open hearts and minds. Our deep stories connect us.
As the youngest in her generation, Marian listened with her full visual imagination to stories about family members who had died many years before she was born. Through these stories she knew and felt her ancestors living in her bones. Now, her ancestors often respectfully show up and help her share Griot stories. This is the oral history in which Griot, the game, was born.
Griot is a game that uses the combination of simple story prompts to lead folks to discover and share new stories about themselves and their families. Come and grow closer to your family and to each other by sharing your stories.
---
Michaelle Goerlitz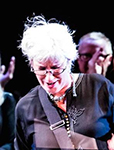 Michaelle Goerlitz has been playing drums and percussion since she was eight years old. After attending college in the Midwest, she moved to San Francisco in 1980 to continue her studies, which have led to exploration of Brazilian, Afro Cuban, Venezuelan, and Middle Eastern rhythms (plus American idioms jazz, R & B & funk). She was a founding member of two renowned & long-term projects, the Blazing Redheads and Wild Mango. Both groups blended many different styles which showcased Michaelles versatile percussive skills.
Among the list of people Michaelle has played with: VNote Ensemble, Venezuelan Music Project,Chelle & Friends, Wayne Wallace, Mark Levine, The Brazilian Jazz Project, Ojala, rhiannon, Barbara Higbie, Jami Sieber and Samba Rio.
---
Neena McNair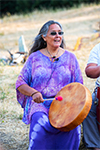 I first experienced drumming as a child at local pow-wows. Women were not then allowed to sit and sing at the drum. I was drawn to dance in my teens, and through my 20's I danced many styles. In my early 30s I was introduced to Congolese dance and drum. It was everything I had been searching for dancing to live drumming Heaven!
During that time I was also introduced to a Native American women's drum circle. I was captivated! I have been singing and drumming in native women's plains-style drum circles for almost 30 years now. Feeling the power and responsibility of these times, I feel so fortunate to have come full circle! I invite you to the circle, we co-create, when we gather at women's BTD.
Queen Hollins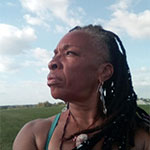 My name is Queen Hollins. I am a Queer Elder Activist Grandmother! I am the Founder of the Earthlodge Center for Transformation Spiritual Community in Long Beach, CA. The Earthlodge centers Black Southern Indigenous practices, and embraces and encourages all indigenous practices.
We practice healing justice that creates pathways to wellness by hosting a variety of ceremonies that are connected to Nature and that provides opportunities for individual and communal wellness on mental, emotional, physical, and spiritual levels. To learn more about our community, ceremonies, online and in person classes, and to hear about my new book, Earth Doula, please visit: www.earthlodgecenter.org
---
Regina Wells (Rashida Oji)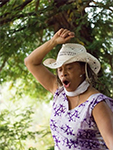 Regina Wells is a full-hearted singer whose voice and presence touches people deeply. She has been singing all of her life, from her youth leading Catholic folk masses to venues large and small around the USA. She has shared the stage with Linda Tillery, Carolyn Brandy, Edwina Lee Tyler, Santana, rhiannon, Bobby McFerrin, Melanie DeMore, Toshi Reagon and her own band Rashida Oji and Middle Passage and Ojalá.
Today Regina walks a path of service and ministry to elders and people suffering from chronic pain, depression, anxiety, addiction and Alzheimers as both a Rosen Method Bodywork Practitioner and Movement Instructor. She is strengthened by her initiation into and practice within the Regla de Ocha tradition.
---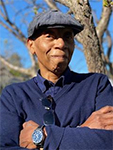 Renaye Brown
Renaye Brown has for the last five years been the percussionist for the all women jazz band Melbas Kitchen. She currently gives free drumming lessons to kids at Rosa Parks Elementary. Renaye has toured and performed all over the United States for over three decades with with many bands and continues to do so. Her band Melba's Kitchen plays Yoshi's his June, and travels to Wisconsin this July to perform at the National Women's Music Festival.
---
Sahar El Khatib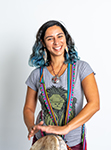 Sahar El Khatib fell in love with West African drumming and started to play the Djembe drum in 2010 in Lebanon. She then traveled to Guinea West Africa to learn under the great grand master Mamady Keita in 2011. Drumming has given Sahar an international platform, performing with many West African drummer enthusiasts and lovers of the Manding culture. In 2016, her passion for drumming led her to the world's best percussion shop in Santa Cruz, California, called Drumskull Drums. The minute Sahar arrived in Santa Cruz, she knew it was home. She received an Artist Green Card that has allowed her to continue living out her passions right here in Santa Cruz.
In addition to working at Drumskull, she worked with the Arts Council of Santa Cruz as a Teaching Artist. She taught young adults in after school programs how to play West African drumming all over Santa Cruz County. She gives weekly drumming classes for beginner and intermediate levels at Drumskull Drums. She's been drumming for more than 12 years and continues to learn under many West African Artists and Master drummers such as Bolokada Conde, Babara Bangoura, Fode Bangoura, and as many workshops, she can attend in the Bay area and beyond.
---
Sena Kugbega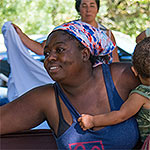 Sena Kugbega is from Cape Coast, Ghana, (West Africa) and has been teaching drum and dance since she was 13 years old. As a young girl growing up, she always knew what she wanted to do. Sena Kugbega has also traveled with her mother, Award winning only female master drummer in Ghana Adwoa Kudoto, throughout the US teaching and performing in Washington, New York, Atlanta and California,etc.
Sena was always willing to learn; learning how to have fun drumming and dancing. Dancing has always been part of her life and she does it with enthusiasm and joy. Sena is an excellent teacher and her classes are always fun with lots of room for plenty of laughter!
---
Susu Pampanin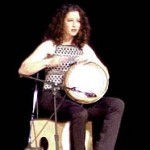 Susu Pampanin has explored and studied all types of percussion instruments and styles of music, but her talent is especially evident in her work in Middle Eastern drumming. Susu is well known for her virtuosity in Arabic drumming and is highly respected by the Arabic professional music community.
She has traveled world-wide and has worked and recorded with many artists and groups, including Wild Mango, Keith Terry and Crosspulse, Stellamara, Jazayer, BlueNile, Vince Delgado Quintet, Susu and the Cairo Cats, Holly Near, and ASWAT, an Arabic musical and vocal ensemble.
Her first album, "Susu and the Cairo Cats, Live at the Giza Club" was released in 1990 and was followed by her solo album, "Susu Pampanin, Hands of Time" in 2001. She also recorded a CD in Egypt, in 2013, Nostalgia, with the world renowned Safaa Farid Egyptian Band.
Susu teaches regularly in the San Francisco Bay Area, as well as all over the US in specialized workshops. She also has taught and performed at many esteemed events such as the SF Ethnic Dance Festival, Mendocino Middle Eastern Music Camp, Born to Drum Camp, the San Francisco International Arts Festival and the World Drum Festival.
Born To Drum Spotlight on Susu Pampanin! (watch the video) You can also find Susu on many DVDs as the percussionist for various internationally known belly dance instructors.
---
TerriAnne Gutierrez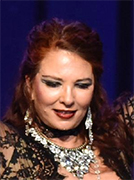 TerriAnne Gutierrez, is a popular teacher of Bellydance, presenting workshops around the world. She has had the honor of having been a featured dancer at the top Middle Eastern clubs in San Francisco, as well as performing for the local Arab community at their weddings, parties and special events.
TerriAnne is the director of award winning, international dance company, Troupe Joweh R.A.W. who has been voted, "Best Performing Dance Company", (Sonoma County) many times, and is the producer of Sirens Fest as well as Founder and Executive Director of Sirens Studio for Youth and the Arts 501c3, located in Sebastopol, CA.
---